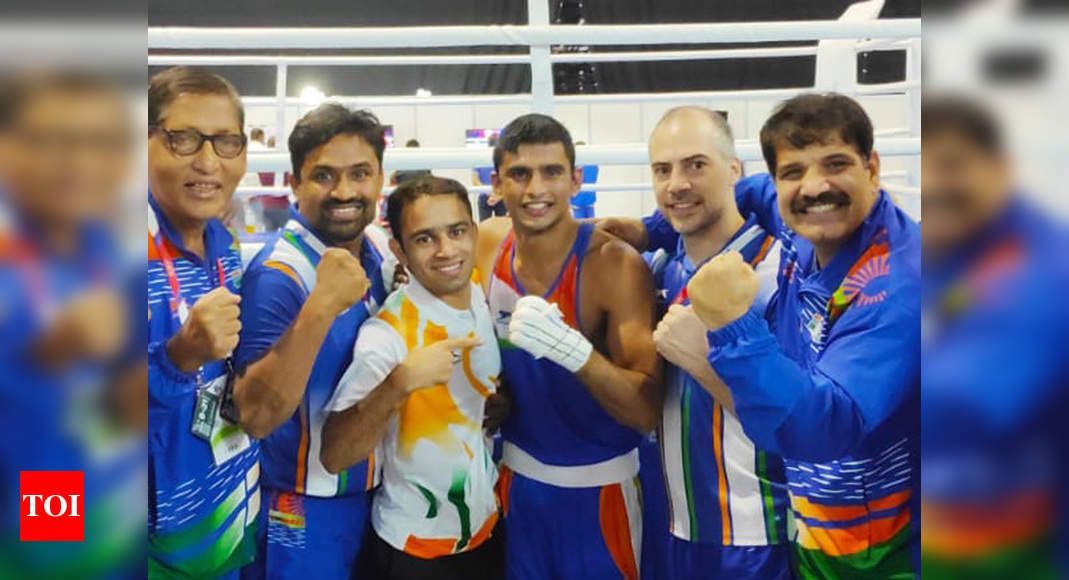 NEW DELHI: With several restrictions on athletes' training in India and the resumption of sporting activities and competitions in Europe, the
Indian boxing
coaching staff has pushed for the urgent need to allow the Tokyo Olympics-bound men and women pugilists to travel to European cities on a nearly two-month long foreign exposure trip to prepare for the Summer Games next year.
TOI can confirm that a proposal for a 45-day-long training-cum-competition tour to Italy, France and Poland has already been submitted by high-performance director
Santiago Nieva
and Indian coaches to the
Boxing Federation of India
(
BFI
) and
Sports Authority of India
(SAI) for their consideration. The final call will have to be taken by the SAI's TEAMS division.
According to sources, the proposal submitted has these following recommendations: Plan A – Leave for Assisi in Italy for training in mid-October, move to Nantes in France to participate in the Alexis Vastine international
boxing
tournament (invitational) from October 27 to 31, shift to Poland in early November to compete in Leszek Drogosz Memorial tournament in Kielce from November 2 to 7, stay there for around two weeks targeting a couple of other invitational meets, come back to Italy in late November for bilateral training camp and a series of friendly matches before returning back to India at the NIS Patiala camp. The European nations are faring relatively better when fighting the pandemic.
If Plan A doesn't work out, the coaches have presented the BFI and SAI with two other options. Plan B: Travel to Minsk in Belarus for training and a friendly series with their national team and Plan C, leave for boxing powerhouse Kazakhstan where pugilists from other Asian regions have started converging to train with boxers from other Olympic-bound nations to prepare for Tokyo.
With the international boxing calendar suspended due to the pandemic, European nations have started organising invitational and memorial tournaments which has made the Indians desirable of availing some crucial match-time experience.
The thought process behind the proposal is simple: As per the SAI's SOP for boxers, they can only engage in shadow boxing, running, strength training and punching bags, whereas the European sojourn will provide the pugilists the much-needed sparring sessions, friendly matches and competitive bouts, all of which are currently missing because of the coronavirus-induced training restrictions.
Personally, the coaches are eager to travel to Europe and have requested the authorities to look for arranging the Schengen visa. But it will all depend on which among the three options the SAI selects.
However, there are two obstacles in clearing this proposal: One is India has secured an air-travel bubble with France and Germany but these countries have been extending visa facilities to Indian citizens for only employment and study purposes and not for tourists and any other sports activity. The coaches have asked the organisers of these European meets to send them the 'Invitation Letter'. Another issue is the different quarantine rules for different sets of visitors visiting the EU, depending on the number of Covid-19 cases in their respective country.
Trip to Assisi will also prove beneficial for the Indian pugilists as the women's head coach, Raffaele Bergamasco, is in his hometown attending to his ailing wife suffering from cancer. Bergamasco has been waiting to return to India for nearly two months but the Indian embassy in Italy hasn't been processing visas at the moment.
Sources also informed that the BFI has spoken to SAI to restart sparring in a limited manner at the NIS camp and has been waiting for the confirmation on the same. However, for that to happen, a new set of SOP would be required.